Four Tips For Keeping Your Dog Safe This Halloween
Four Tips For Keeping Your Dog Safe This Halloween
While Halloween can be a ghoulishly good time for humans, it can be downright terrifying for pets. From repeated knocks at the door to people in costumes, Halloween can be an overwhelming experience for our furry friends. Keeping your dog safe during the spookiest night of the year doesn't need to be tricky with these four Halloween safety tips for pets.
Keep Candy Away From Pets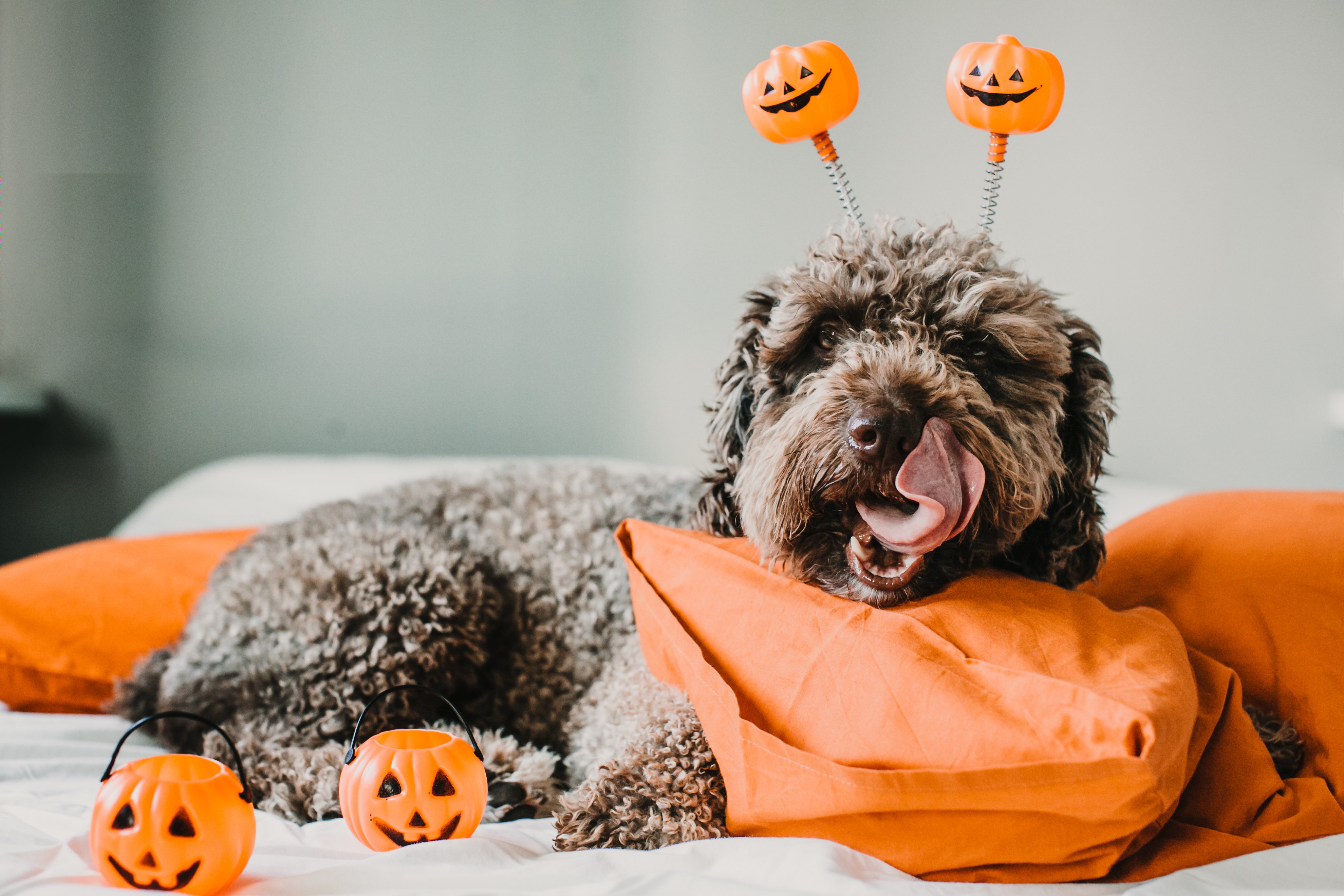 Storing candy out of your pet's reach will help ensure you both have a happy Halloween. Many Halloween treats contain chocolate and xylitol (an artificial sweetener) which are both safe for humans, but can be very dangerous - and potentially lethal - if ingested by our furry friends. If you suspect your pet has ingested chocolate or xylitol, contact your vet immediately.
Costume Check
One of the best things about Halloween (after treats, of course) is the costumes! If you choose to dress your pet up this year, test out their Halloween costume before the big night to ensure they're comfortable with it on. Costumes should not restrict your pet's breathing, eyesight, hearing or movement in any way. Pets in costumes should be supervised at all times in case something comes lose or they start to show signs of discomfort. If costumes aren't your dog's thing, a Halloween-themed bandana or bowtie is an easy way to add some fang-tastic holiday flair to their look.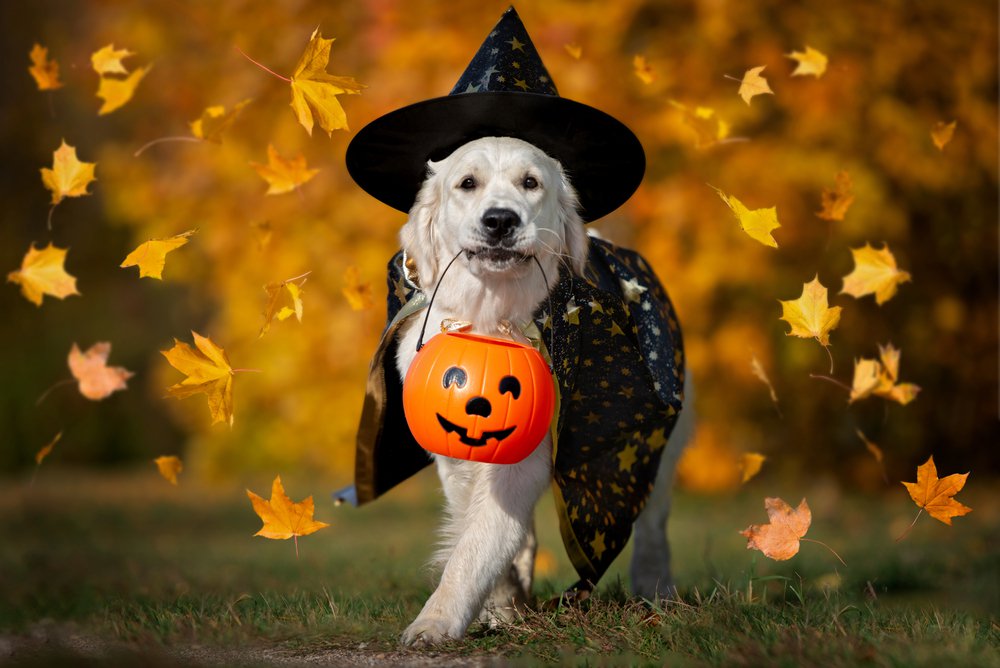 The Front Door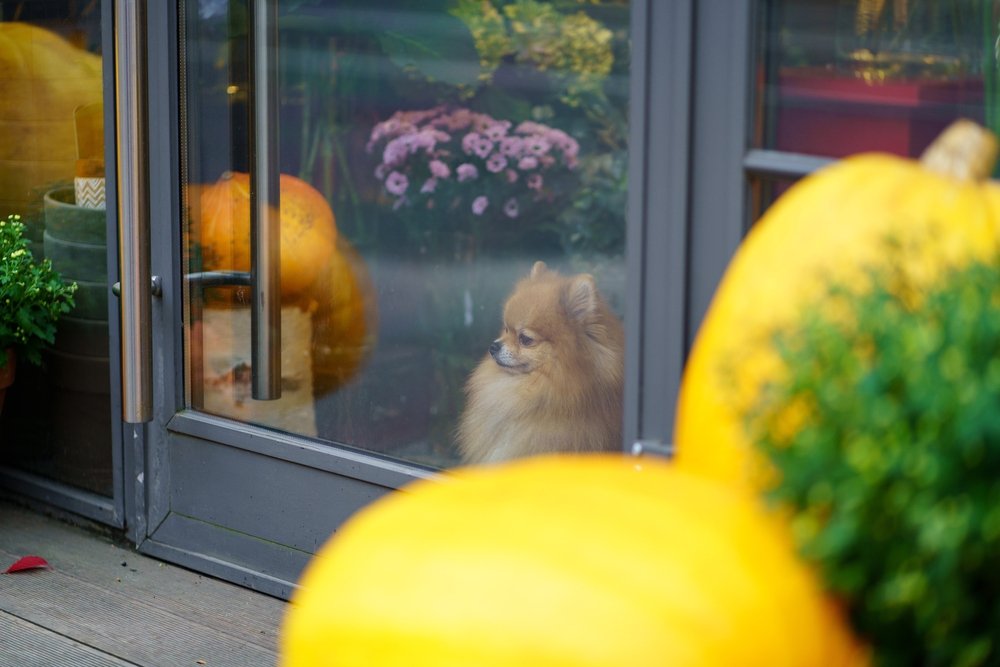 Lots of knocks on the door, people in costume, and guests stopping by: it's all part of Halloween! However, to your pet, Halloween night can be pretty stressful. To help keep your pet happy and comfortable during the festivities, keep them in a room away from the front door with their favorite treats and toys to keep them busy. To reduce your pet's stress, try meeting trick-or-treater's outside your front door instead of waiting for them to knock or ring the doorbell.
With the front door opening and closing frequently, a pet can wander outside unattended. Making sure your pet has an up-to-date ID tag/microchip can help increase the chances of getting them back home safely.
Halloween Decorations
Keeping Halloween decorations out of your pet's reach is the easiest way to keep your fuzzy companion safe. An unsuspecting dog can knock over a lit jack-o'-lantern or candle, which could lead to burns or even fires. Flameless candles are a good option to use instead - but keep an eye on these as well. Batteries can be extremely harmful if ingested. Wires, fake cobwebs, and smaller decorations can be chewed on or swallowed, which could lead to some serious health problems for your dog.
In small amounts, raw pumpkin and pumpkin seeds are typically safe for dogs to eat. However, if the pumpkin is moldy or rotting, it can make your pet sick.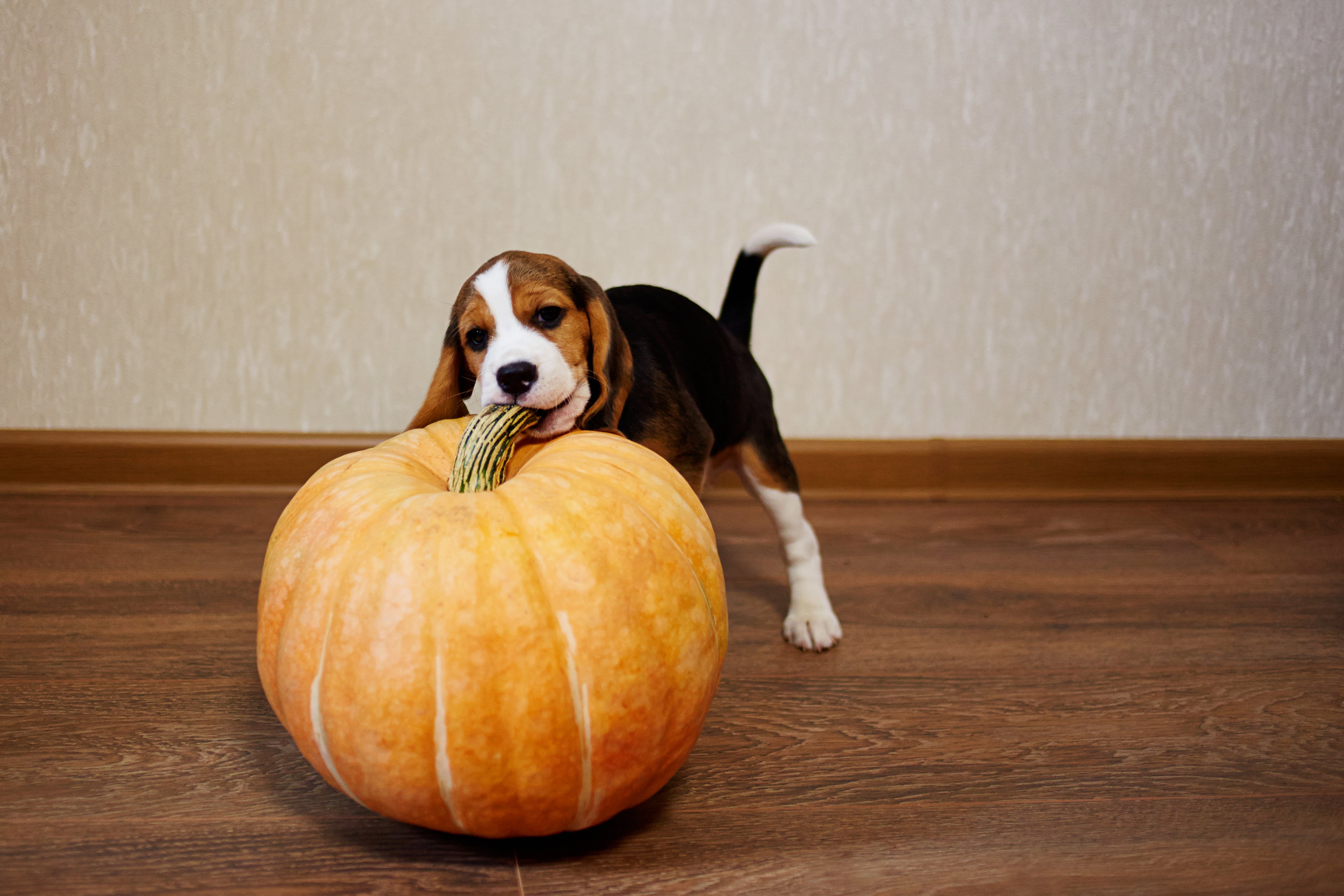 There's no trick when it comes to these pet safety tips for Halloween. By ensuring Halloween candy and decorations are out of your pet's reach, your dog's ID is up to date, and that your pet's costume is the right fit, you're helping make sure both of you have a safe and spooktacular evening. From everyone here at The Puppy Palace, we wish you and your furry friend a happy Howl-o-ween!

The holiday season has arrived, and with it comes festive decorations, treats, and more. While you're decking the halls this year, don't forget to consider your canine companion. From plants to ornaments, picking pet-safe decorations can help ensure you and your dog have a happy holiday season. Following these five tips can help keep your pet safe during the most wonderful time of the year.
Thanksgiving is just around the corner, and with it comes all the delicious fixings! Unfortunately, there is often an increase in vet visits as a result of pets ingesting unsafe foods during the holidays. Not sure what Thanksgiving foods are safe to feed your furry friend? Keep reading to see what's on our list of pet-safe and unsafe foods for Thanksgiving.